Introducing the Level Up Pro – the ultimate RV hardware solution for simplifying your levelling experience and monitoring your Progressive Industries EMS. With this state-of-the-art device, levelling your RV has never been easier. Utilizing the latest WiFi and Bluetooth technology, the Level Up Pro wirelessly communicates with your mobile device to provide real-time levelling data, allowing you to adjust your RV with pinpoint accuracy. Additionally, the Level Up Pro also monitors your RV's electrical system with its integration of Progressive Industries EMS, providing valuable data and alerts to keep you informed about potential power issues. Its user-friendly interface and easy-to-read display make the Level Up Pro a breeze to operate, ensuring that you can focus on enjoying your RV experience. Upgrade your RV hardware game with the Level Up Pro today!
14500 Li-ION 800 mAh Rechargeable Battery
12 VDC and USB External Power
Two RJ-11 jacks for your Progressive Industries EMS
Standby Power Switch
Built in Real Time Clock
Built in Temperature and Humidity Sensor
Multiple Trailer Support
2.4 GHz WiFi
Bluetooth LE
Security Pin
Tap to Pair
Dimensions – 145 x 91 x 40 mm / 5.7″ x 3.6″ x 1.6″ inches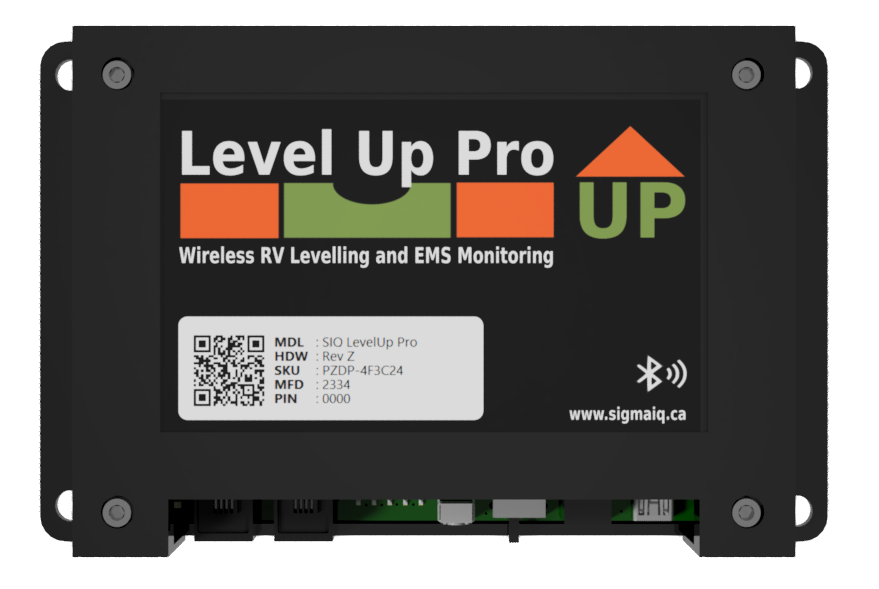 Features
Dashboard
---
The Level Up mobile application dashboard shows everything you need in a single view. You can view:
EMS Voltage and Current Consumption
Events by Severity
Internal Sensors (temperature, humidity, battery voltage)
RV Battery voltage and state
RV Level State side by side and front to back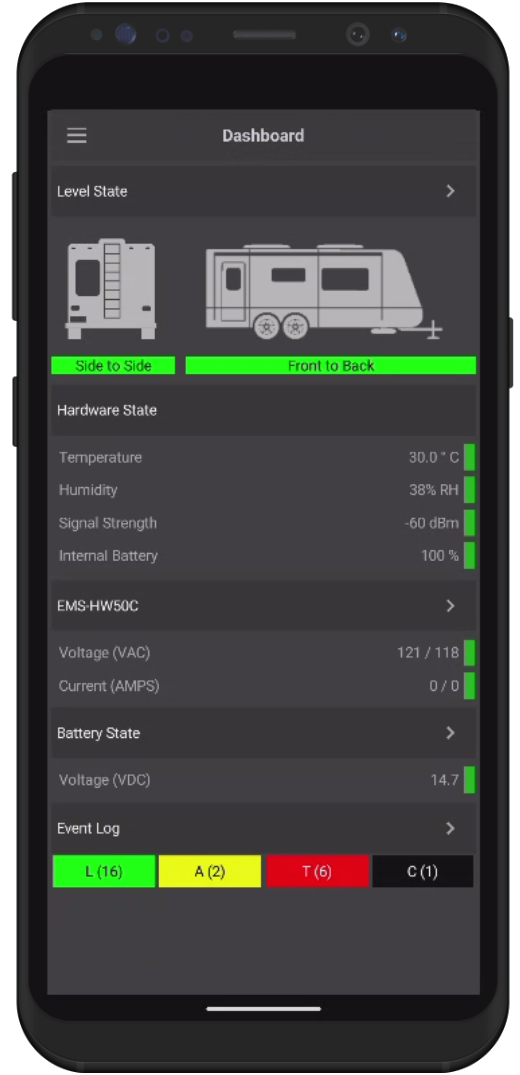 Levelling
---
Level Up allows you to quickly and accurately level your RV. The mobile application also includes a hitch height recall feature for quick and easy hookup.
The Park feature indicates to the Level Up module that the RV is parked and enables the motion detection feature and sets the trailer position.
Units:
Resolutions Options:
5, 10, 20, and 25 mm
0.5, 1.0, 2.0 and 2.5 cm
0.25, 0.50, 0.75 and 1.0 inch
Update Interval:
Application updates screen once / second
Module average 250 measurements / second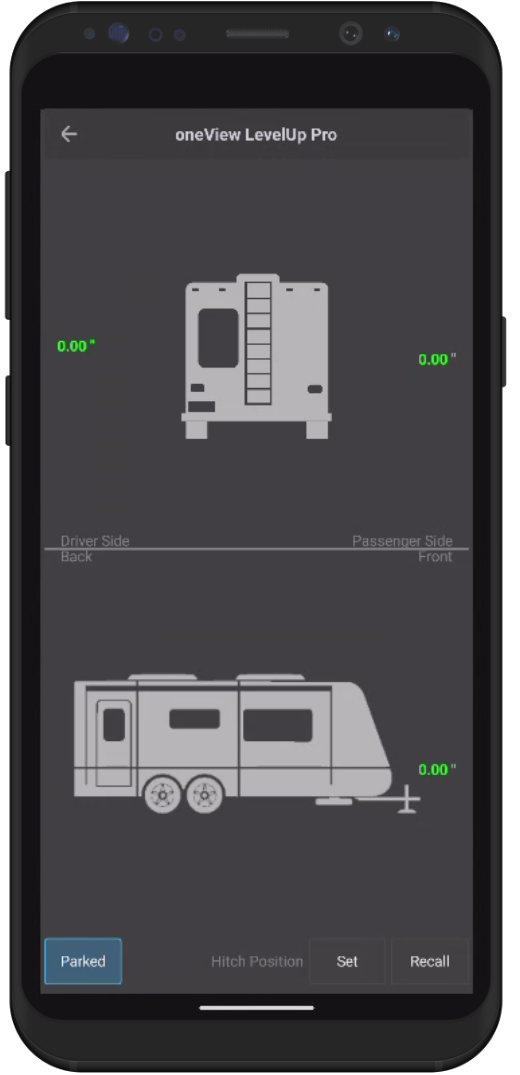 AC Power Monitoring
---
Level Up Pro supports the Progressive Industries Inc models EMS-HW30C and EMS-HW50C Electrical Management System. Level Up Pro integrates seamlessly with both modules. Simply plug the EMS and the remote display into Level Up, and your done. We even include the cable.
Level Up Pro automatically detects the respective EMS module and adapts the EMS screen in the mobile application.
Level Up monitors the voltage, current, frequency, power and uptime. All state changes, or pedestal wiring faults detected by the Progressive Industries EMS modules are record by Level Up module.
Events:
High and Low Voltage
High and Low Frequency
High Current (Amps) Usage
Power (Watts) Usage
Pedestal wiring issues (reversed Hot and neutral, no ground, etc)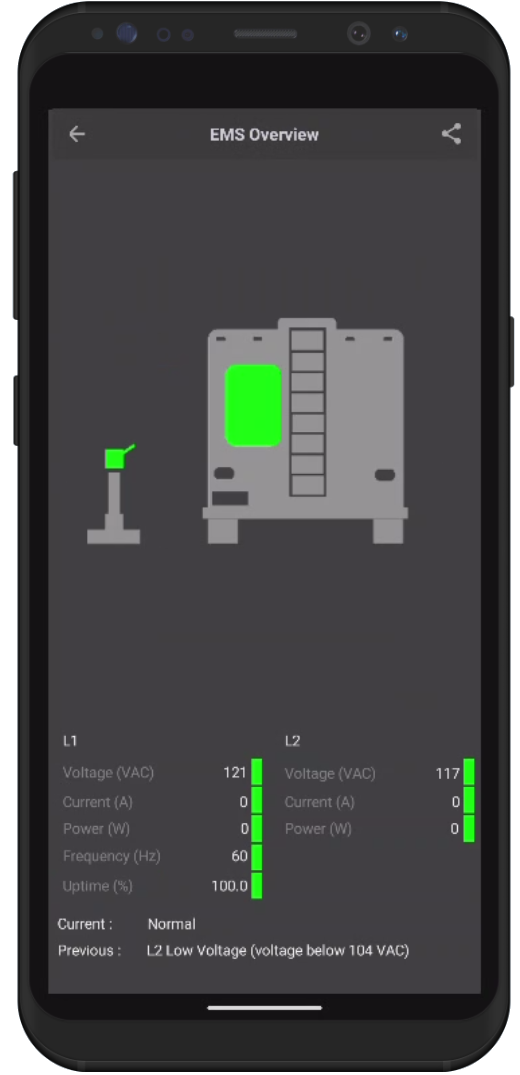 DC Power Monitoring
---
Level Up Pro when connected to external power to the converter or directly to the RV batteries can monitor the voltage, state of charge over time. Level Up automatically sends alerts to your Cloud link account if it detects high or low voltage conditions and accurately measures the voltage to a single decimal point for voltages between 10.0 and 14.7 volts. Battery state and battery voltage over time are color coded based on the battery chemistry.
Supported Battery Chemistries:
Sealed Lead Acid (SLA)
Absorbent Glass (AGM)
Lithium-Ion (Li-ion)
Events
---
Level Up logs and categorizes all events that are detected by the Level Up module. The events are categorized by type and by severity.

Tap on the event for more detail, or swipe and delete the event. You can manage event retention, enable or disable notifications by going to Settings.